Some great news from the Buckinghamshire Lottery!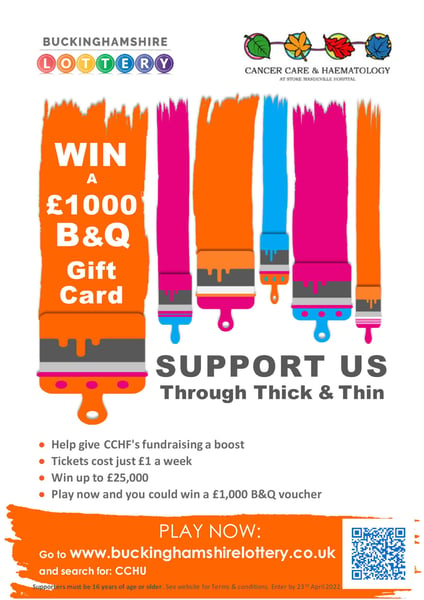 On 23rd April you will have the chance to win a £1,000 B&Q Voucher. That's on top of the weekly cash prizes provided by the lottery, AND the chance to win the £25,000 jackpot!
If you're already a lottery supporter there's no need to buy a separate ticket - you will automatically be entered into this national draw, although you can buy extra tickets - the more you have the greater the chances of winning!
If you don't already play the Buckinghamshire Lottery, why not consider joining in? You can choose to support the Cancer Care and Haematology Fund when you play the lottery. Each ticket has a 1-in-50 chance of winning a weekly prize, with a £25,000 jackpot prize plus various other cash prizes. Tickets are £1 each, of which 50% goes to CCHF and 10% to other local good causes.
For more information about the latest £1,000 B&Q Voucher prize – and how to start supporting CCHF by playing the lottery – click here: Buckinghamshire Lottery