Alvin is our Ambassador!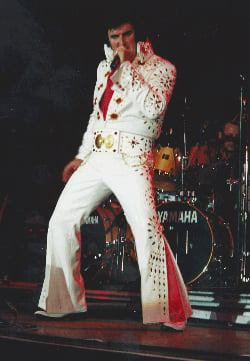 We are so pleased to announce that Alvin Printwhistle - best known in the Aylesbury Vale and beyond as Elvis Presley impersonator Alvin : the Ultimate Elvis Tribute – has become our first Ambassador.
Alvin has been a huge supporter of CCHF for nearly 20 years and has so far raised more than £50,000 towards supporting patients and staff at the Cancer Care & Haematology Unit at Stoke Mandeville Hospital and the Sunrise Unit at High Wycombe Hospital.
Little did Alvin know when he first started raising cash for CCHF that he himself would need to be treated at the unit in Stoke Mandeville. In 2015 he was diagnosed with lymphoma – a type of cancer that develops in the lymphatic system – but with treatment Alvin is now in full remission and able to live normally.
Alvin explains: "As result of my experience, I decided to set about raising money for others that, however unfortunate, might follow in my stead and have to undergo treatment at the CCHU at Stoke Mandeville Hospital.
"The patients that I came into contact with during my time there came from all around and this made me realise that treatment wasn't only being given to those in the Aylesbury area, but also to those from much further afield, thus highlighting the importance of fund raising for the unit," he says.
Alvin is not alone in his endeavours. He is strongly supported by his wife Yvonne, who not only organises and supports her husband's charitable efforts, but also raises money in her own right – not just for CCHF but also for other local charities. They're very much a team!
Not only does Alvin raise money for CCHF but he regularly gives talks to communities in Buckinghamshire about the charity's work and is able to relate cancer treatment to his own personal circumstances.
Alvin's illness, followed by the coronavirus pandemic, has had a big impact on his business and he has been unable to work or raise substantial amounts of money for charity since the end of 2019, but he is slowly getting back to normal with lots of gigs and events planned for 2022 and beyond.
We are grateful to Alvin and Yvonne for their fundraising work and we're very privileged to have him as an Ambassador for CCHF.