£1,000 Currys voucher on offer!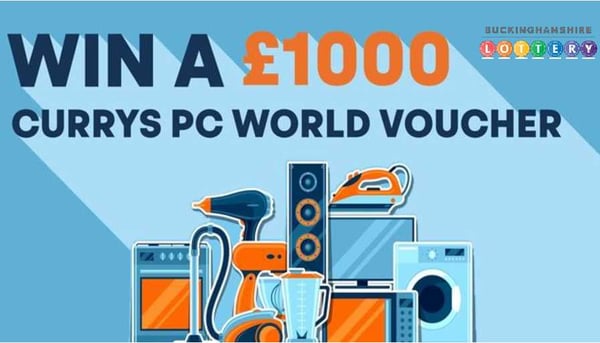 Have you thought about playing the Bucks Lottery? It's a great way to support us (your favourite charity!) by buying tickets – and this month there's an additional prize to be had.
The Lottery is offering a £1,000 Currys voucher! So, if you need a new washing machine or oven, or perhaps long for a new 8k smart TV then now's your opportunity!
Whatever you want to upgrade this summer you'll know that you are making a real difference to a good cause - AND have the chance of winning £1,000 to level-up your home!
The special prize draw will take place on 27 August 2022. If you already take part in the Lottery there's no need to buy separate tickets, you'll be automatically entered into this prize draw. Of course, you are welcome to buy additional tickets.
Every ticket you buy is an extra chance to win, and a real fundraising boost for Cancer Care and Haematology Fund. If you want to join in visit our lottery page!

Thank you so much!