First patients benefit from new scalp cooling equipment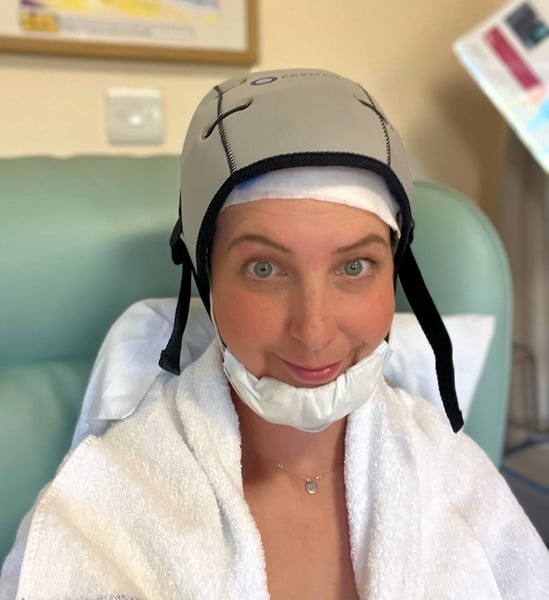 We're delighted that the first patients are using the new scalp cooling equipment at the cancer care and haematology units in Buckinghamshire. The equipment was delivered and installed only very recently and was funded by CCHF.
One of the first to use the latest technology coolers is Zara Corby who is receiving treatment for breast cancer at Stoke Mandeville. She messaged us this week with these photos and to thank us for funding the new scalp coolers.
Zara told us: "I feel so fortunate to not only have been offered scalp cooling through Stoke Mandeville hospital but also to have been so well supported in my choices by staff.
"I have so far had three rounds of EC and will now start three rounds of docetaxel [chemotherapy drugs]. These drugs are known for severe or total hair loss but thanks to scalp cooling I have retained around 40% of my own hair. I opt to cover what remains but continue cooling to preserve my follicles and encourage regrowth."
Zara added: "At 35-years-old the idea of loosing my long hair was really hard and scalp cooling offered me some control and hope. I am so pleased to have benefited from the two new machines on the unit and hope to give back to the unit as much as possible."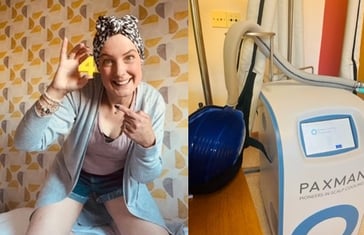 Zara is recording and sharing her treatment journey through her Instagram account (@lump.intheroad) and has just completed her fourth chemotherapy session at Stoke Mandeville.
She is also raising money for the CoppaFeel breast cancer awareness charity by setting walking targets during her treatment: "I would like to give something back while keeping myself moving and as healthy as possible after surgery and during treatment," Zara explained.
CCHF recently committed £50,000 for the purchase of four scalp coolers – two for Stoke Mandeville and two for the Sunrise Unit at Wycombe Hospital.
CCHF was set up in 1990 to raise funds to help patients diagnosed with cancer or blood disorders by funding the construction of a specialist unit at Stoke Mandeville Hospital, near Aylesbury. Today the charity continues to provide financial support for Buckinghamshire Healthcare NHS Trust treatment facilities at both Stoke Mandeville and the Sunrise Unit.
You can support Zara's fundraising for CoppaFeel by clicking here.